Human traffickers have earned a billion Euros
Turkish traffickers charge 700 Euros per person from the Turkish coastal town of Bodrum to the Greek island of Kos, for about 24 kilometers. Resellers, taxi drivers, fraudsters and robbers earn on them. German economy will have major benefits of them
Latest posts by Горан Лефков
(see all)
Balkan trafficking route again has "goods" for trafficking. This time it is the people of Syria. For promised Germany, Syrian refugees, only from the beginning of the year, have paid Turkish traffickers from a half to one billion Euros. Ahmed Kelani, teacher from Syria, paid $ 700 per person for the transfer of his family via Turkey.
"I paid 5,600 Euros for my family of 6 members with two small children", says Kelani.
It was a bit cheaper for his friend Mustafa. He paid $ 600 per person to the traffickers.
"I paid 3,000 dollars to have my family transferred from the Turkish town of Bodrum to the Greek island of Kos. In the family I have 5 members with me ", said 60-year-old lawyer from Kobane.
From January to July this year 130,000 people entered Greece officially, and it is estimated that only in August more than 50,000. So in the first 8 months of this year Greece had about 200,000 people. When 700 Euros is added to this per person, so only Turkish trafficker have earned about 150 million Euros from migrants since the beginning of the year.
Unofficially, some people told us that traffickers were taking from 3,000 to 5,000 Euros per person to be transferred from Syria to Hungary, via the so-called Eastern Mediterranean and Western Balkan trafficking route. After these calculations traffickers have earned a billion Euros since the beginning of 2015.
In Macedonia only resellers earn from refugees
Resellers' prices were several times higher than the real ones. Two bananas were sold for a Euro and a half. A pack of cigarettes among retailers was even more expensive than London, 4 or even 5 Euros for Marlborough and two packs of Rodeo were about 6 Euros. A liter and a half of water was sold for one or two Euros. Often the water at the railway station in Gevgelija was not packed, there were cases where resellers filled bottles from home and tap water was sold like bottled water.
Within taxi drivers there was a larger order. They were not allowed to drive undocumented migrants.
"We drive them from Gevgelija to Tabanovce for 100 Euros per car. It is so on taximeter, so that is what we charge. The condition is to have legal documents to stay in Macedonia. If they do not have documents we must not take them", said a taxi driver from Gevgelija called Djoko.
When there is food Red Cross gives from its own supplies, and on the route followed by the migrants there is almost nowhere to buy from in Macedonia. There is only one newsstand near the railway station in the town and there they buy some basic things.
When they go to Kumanovo, after the borderline they are welcomed by the local resellers.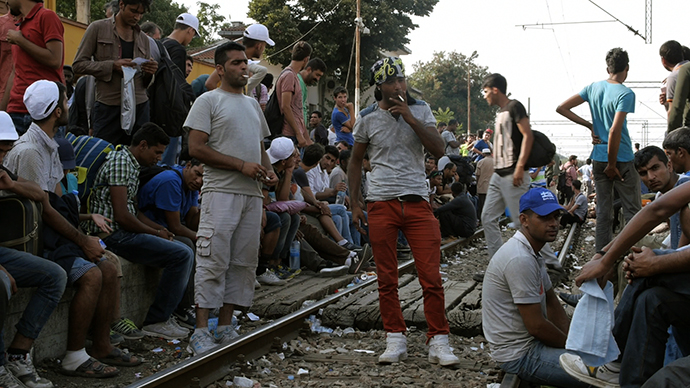 Economic benefit from accepting refugees
The human dimension of the refugee crisis has toured the world. According to Zoran Todorov, expert in international relations who graduated from the University of Novi Sad, this is a great game.
"Germany has the most expensive labor of the great world powers. China, India, Brazil, USA and South Africa have much cheaper labor. Germany must follow their example if it wants to remain the world power", Todorov says.
He believes that Macedonia cannot do anything more to keep some of the refugees because nobody wants to stay here.
"The best that Macedonia has done is that it transported refugees from the country soon, so not to be on the social funds", adds Todorov.
Economic analyst Stojce Samardziski has a similar opinion.
"For decades Germany has been importing labor. In the 60s it was the Yugoslav dissidents. In the 70s hundreds of thousands of our workers left for the West. In the 80s the lack of workers was complemented by Turkey, in the 90s from Yugoslavia, but also the Czech Republic, Slovakia and Poland. In the previous decade it was the Poles, Romanians and Bulgarians", says Samardziski.
He adds that German institutions have exact calculations where workers can be brought from. By accepting refugees, despite the human obligation they meet, they also provide the future of their nation.
"In Germany there are over 40 million workers. If this million refugees anticipated to leave for Germany can reduce the wage for one euro, benefits for the German economy will be great. Only local employees will suffer, therefore protests started in East Germany", says Samardziski.
However, the refugee crisis is considered with great caution by the countries of the European continent. Syria-Europe corridor, which has been functioning in recent years, increases the fear among the officials from possible infiltration of members of terrorist organizations that participate in the war in Syria.
According to the UNHCR, 2.2 million refugees have been registered in Egypt, Iraq, Jordan and Lebanon, 1.8 million are in Turkey and 24 thousand in South Africa.