Lojane is no longer mecca for human traffickers
SCOOP lived with the refugees for a week. We present to you their stories and sufferings directly from the field. Human traffickers have allocated their groups to Lojane, where they promise for a certain amount of money to provide a sure path to the final destination – Germany
Latest posts by Горан Лефков
(see all)
In Kumanovo the situation was more relaxed. First we stopped at the railway station. An employee in Macedonian Railways named Viktor informed us that the train would be in Kumanovo in half an hour, and in about 40 minutes at the border crossing point Tabanovce. We went to Tabanovce by car. As we passed the mandatory procedure for checking documents and permission to shoot, the train was already on the border territory. In Tabanovce the aid workers were more organized. They gave juice and croissants to the refugees.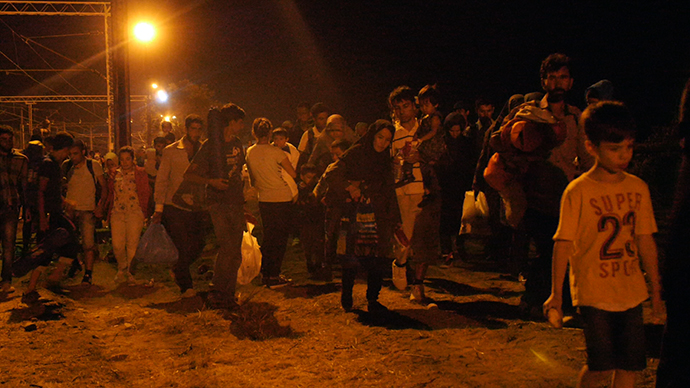 Refugees and migrants got off the train. They headed to the border area. On the way to the border area they were greeted by local resellers of juice, water, cigarettes and snacks. Visibly nervous about our presence, several times they warned us not to shoot, although we had a proper license from the Ministry of Interior and Border Police.
Briefly after arriving, the refugees spread up in groups into the open, above the train station. They broke branches from the nearby bushes and lit 3-4 bonfires. A large group of migrants left towards the Serbian border.
Traffickers separate out their groups to Lojane
Less than half an hour after the refugees went to the Serbian territory, a small group of people returned. The rest were gone. They separated from the larger group that went to the Serbian police checkpoints. People from Kumanovo that were present in the field doubted that the majority of people were separated by human traffickers.
"In the village of Lojane traffickers use to have some houses and they take people there. They lied that for a certain amount of money they will take them to Germany, but now with a new laws their business is gone", said a local resident from Kumanovo.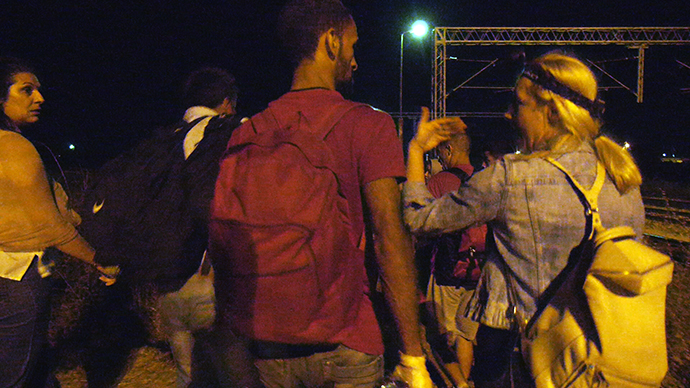 Aleksandra Davidovska from Kumanovo confirmed the traffickers' activity.
"We have information that some migrants have been attacked with knives. We cannot confirm whether they are traffickers or migrants without money, so they rob smaller groups of migrants or they are from the local population", says Davidovska.
She is one of the few residents of Kumanovo who has been helping migrants for a long time.
Among the group it was said that in the Serbian police patrol there were Hungarian and German policemen and therefore they did not let the migrants. We did not have a permit to shoot and movement on Serbian territory therefore we did not go there and we cannot confirm this information.
Hungary – greatest concern for migrants
Large uncertainty was lurking. It was Hungary and whether that country would accept them. Even more worrying for them was whether once accepted, the so-called Dublin fingerprint regulation would apply.
Namely, with this regulation, the country that will accept migrants and will implement this rule is considered their "home territory" in the European Union. If they move to another country, that country can return them to the country where they first had fingerprints taken and are registered as refugees.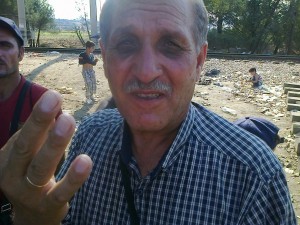 "I do not want to stay in Hungary. I want to go to Germany and there for the first time to request documents for a longer stay. I want to stay in Germany", says 60-year-old Mustafa from Kobane.
24-year-old Rafis, management student from Aleppo did not want to stay elsewhere in the EU. He briefly commented that he wanted Germany and only Germany.
(to be continued)