Board members live luxuriously; companies do not have for salaries and new mechanization
There is no money for employees, but Board members regularly take 58,800 denars annual lump sum per member, according to documents submitted to us by Makedonija Pat under the Law on Free Access to Public Information
Latest posts by Горан Лефков
(see all)
Winter 2015. An idyllic picture in Macedonia. Snow-covered land, impassable roads and many villages cut off. The public enterprise Makedonija Pat has no money for new machinery, but has money to give to the managing board exceeding the number of people under the law.
Namely, the Board of Directors of this public company has 13 members, which is illegal.
Using the legal right to free access to public information, SCOOP Macedonia came to data on illegal membership in the boards of directors of some companies, as a continuation of the previous research that showed how board members earn both salaries and honoraria. Under Article 21 of the Statute of PE Makedonija Pat, maximum number of members should be 5.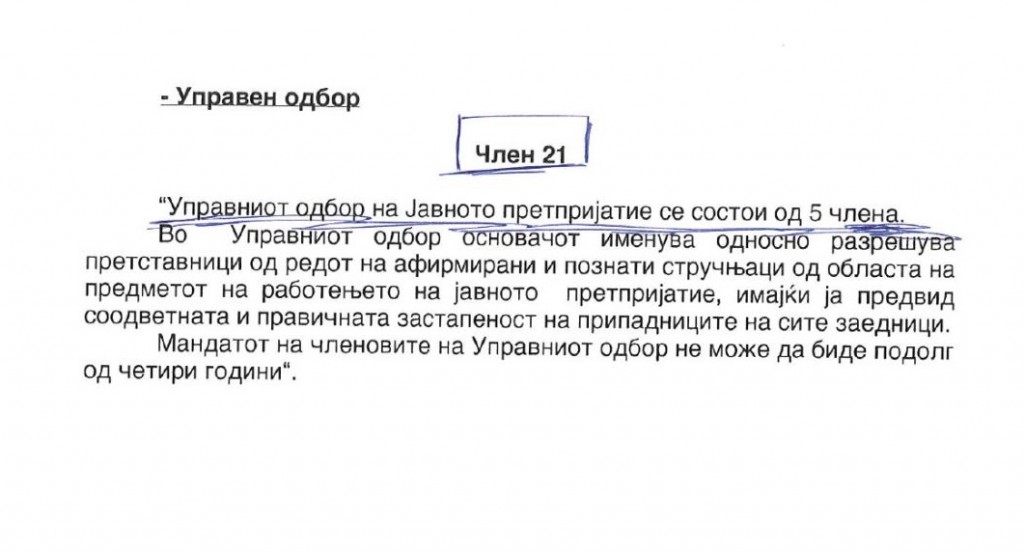 Lawyers say this is illegal.
"Membership of more members in the Board of Directors, as stipulated in the company's statute, is against the law. If, under the statute, it is to have 5 members, there must be 5 members. All decisions brought by the members of the Board of Makedonija Pat are invalid because they are contrary to the company's statute", says Borce Davitkovski, Dean of the Faculty of Law Iustinianus Primus in Skopje. We also called the director of PE Makedonija Pat Gajur Kadriu, but he did not answer to our calls.   No posts for the employees in Makedonija Pat, but there are posts for the Board members   In 2013 in Makedonija Pat, the then Minister of Transport and Communications, Mile Janakieski, carried out rationalization of the company's work and from the Stip subsidiary allocated 48 workers in other institutions such as the prison in Stip or some municipal public companies. "An excuse of the then Minister of Transport and Communications, Mile Janakieski, was that reorganization of the company and staff reduction was to be done. But it has no effects. We have 13 road sweepers. The latest vehicle was purchased in 1992 or 1993, and in 2002 there was a Japanese donation of a car and that is all", said our source from Makedonija Pat who wanted to remain anonymous. Our source has doubts about the company's ability to perform its functions. There is no money for employees, but Board members regularly take 58,800 denars annual lump sum per member, according to documents submitted to us by Makedonija Pat under the Law on Free Access to Public Information. 470,000 denars or less than 7,000 Euros were illegally given per year to 8 members, as they are surplus in the Board of Directors of Makedonija Pat. For 5 years (as we have data) from the cashier of the company illegally leaked about 35,000 Euros into the pockets of the Board members. With this money Makedonija Pat can purchase a vehicle to clean the snow in winter more efficiently.     Members of the Board of Directors have collected more than 3,400 Euros for travel expenses   The Law on use of own vehicle for official purposes is well practiced by Kjani Jonuzi, Fuad Islamovski, Dimche Baleski and Tasim Asani. Only in 2014 they collected more than 200,000 denars (nearly 3,500 Euros), and a recorder in the collected money is Todor Iliev, member of the Supervisory Board. Travel expenses for use of own vehicle for official purposes
According to Macedonian laws, a person performing official duties with his own vehicle is given compensation in the amount of 30% per liter of fuel for every kilometer.
According to this formula, in the past 5 years officials charged from 20 to 30 denars (depending on the price of fuel), and their real cost would be no more than 6 denars for every kilometer.
Too many members in the Board of Directors of Telecom
There are a lot of "directors" in the Board of Directors of Macedonian Telecom AD Skopje. According to the data submitted in June by the company, in the Board of Directors (Managing Board) there are 13 members, and in October Vladimir Zdravev, former director of MEPSO, is to join the Board.
Members of the Board of Directors
This government decision is contrary to the shareholders' agreement for the sale of Macedonian Telecom AD Skopje signed by Nikola Gruevski in 2001, as then Minister of Finance.
Article 4, paragraph 2, states the Board of Directors to be composed of not less than five and not more than ten members.
"The shareholders' agreement has greater legal force than the Statute of the company. If now it has 14 members, then the Agreement needs to be amended", says Borche Davitkovski.
He recalls that from 2002 to 2004 Telecom had 10 members in the Board of Directors.
"I was president of the Board of Directors of Telecom from 2002 to 2004 and then we had 10 members. Most of them or 6 members were shareholders of Magyar and Deutsche Telekom, OTE and George Soros' company, because they also have a share in Deutsche and Magyar Telekom. We were four Macedonians", adds Davitkovski.
We could not confirm whether meanwhile the Agreement in Macedonian Telecom AD has changed because the company did not give the Statute, it is not even on their website, it is just written what areas this document regulates.
(The story was is supported within the NED project "Raising Awareness about Corruption through Investigative Reporting")